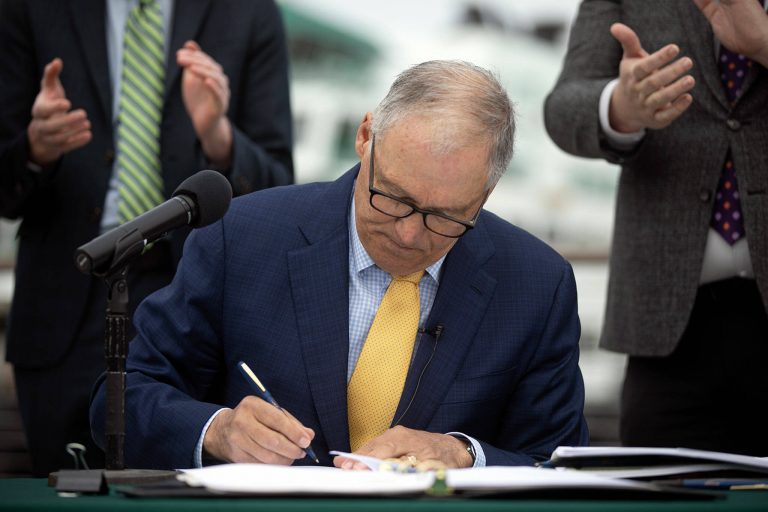 The death penalty was abolished in Washington state Thursday after Democratic Gov. Jay Inslee signed a bill into law eliminating the state-sanctioned punishment.
Democratic Gov. Jay Inslee signed Senate Bill 5087 on Friday, which removes state laws that Washington's Supreme Court determined are invalid or unconstitutional. The state's high court struck down the death penalty in 2018, but the law remained on the books.
In addition to the death penalty, Senate Bill 5087 also removed other laws, including a measure that allowed sterilisation as a criminal punishment.
"I initiated a moratorium against the death penalty in Washington State in 2014, and our rationale for that decision was affirmed by our (state) Supreme Court decision in 2018, when they invalidated the death penalty statute," Inslee said during the bill signing Thursday. "They made clear, and we know this to be true, that the penalty has been applied unequally and in a racially insensitive manner."
Washington State has conducted five executions since the US Supreme Court reinstated capital punishment in 1976, according to data from the Death Penalty Information Center. All defendants were White.
But studies have suggested that race does play a role when it comes to jury decisions to sentence a defendant to death. A 2014 report by the University of Washington found that jurors in the state were "more than four times more likely to impose a death sentence if the defendant is black."
The court's opinion also converted the sentences for the state's eight people on death row to life in prison without release.
The last execution by the state was in 2010 at the prison in Walla Walla. Cal Brown was executed by lethal injection for a 1991 murder. A total of 78 people, all men, were put to death in Washington between 1904 and 2010.
Twenty-seven states, including Idaho, still have the death penalty, according to the Washington, D.C.-based Death Penalty Information Center. Oregon has a moratorium in place to halt the practice.
Last month, Idaho's Republican Gov. Brad Little signed a bill allowing execution by firing squad, making Idaho the latest state to turn to older methods of capital punishment amid a nationwide shortage of lethal-injection drugs.